An eye exam is designed to assess your eye health, identify any changes in your vision, and detect any possible signs that could indicate the development of an eye condition, or the need for corrective lenses. Healthy adults should schedule an eye exam every other year, and parents should arrange for yearly eye exams for their children.
What does an eye exam involve?
Because our focus is on optimal eye health, our optometrists include a wide range of tests as part of our eye exam services. The tests involved will vary depending on your existing eye health and history. Our eye doctors are more than happy to explain each step of the eye exam to you to ensure you feel comfortable.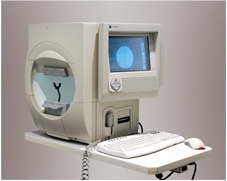 Visual Field Analysis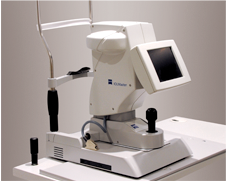 Fundus Digital Camera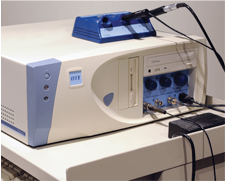 Ultra Sound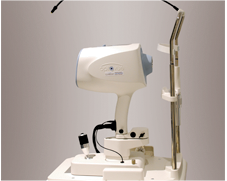 Ocular Coherence Tomography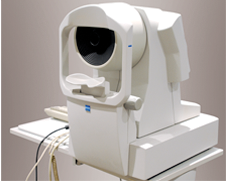 Topographer
Why Choose Yonge and St Clair Eye Centre?
Yonge St Clair Eye Centre is a comprehensive Optometric clinic in Toronto with advanced technologies that can make the routine eye exam more efficient, more effective, and more accurate at diagnosing changes to eye health. We use visual field analysis, ocular coherence tomography, ultrasound, and more to ensure we're providing the most comprehensive eye exams and offering our patients the very best in eye care. You will also find that we're experienced in kid's eye exams, and that our optometrists go the extra mile to make children feel at ease during their eye exam.
Why Would I Need an Eye Exam if I Just Need Glasses?
Eye health is an important yet often overlooked aspect of our general health and well being. Many of the most common eye conditions, such as glaucoma, don't affect vision in the initial stages of the disease, which means that an eye exam is the best way to identify and diagnose these conditions early, giving treatment the best chance of working.
Because the eye exam we offer at Yonge and St Clair Eye Centre is comprehensive, we're able to screen for the health and vision component in a single exam. At the end of the day, the goal of an eye exam is to help you protect and maintain your eyesight and eye health. Our optometrists are able to offer prescriptions and recommendations for glasses, contacts, and other measures to help you see clearly.
Book Your Eye Exam Today
To schedule an eye exam at our Toronto optometry clinic, or to arrange for a kids eye exam for your little ones, get in touch with us here at the Yonge and St Clair Eye Centre in Toronto. Simply call us on 416.922.2020. We're committed to providing you with everything you need to maintain excellent eye health, and protect your family's valuable sight.